Wilson Chapel (1917)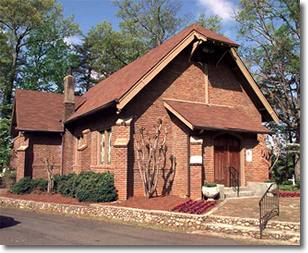 Built in the Craftsman style, this small brown brick chapel is reminiscent of rural England's medieval churches. It was built by Minerva Wilson Constantine and Rosa Wilson Eubanks to adjoin and protect the Wilson family cemetery, established in 1838. The property was deeded to the Methodist Episcopal church South in James Wilson's will, dated February 19, 1895. The first service was held East Sunday, 1917. The first grave, that of Audley Hamilton, is dated 1838, and the cemetery is till used by his descendants.
Located at one of the main entrances to Roebuck Springs, the Chapel is set on a triangular, fieldstone-edged terrace. It served as a community Sunday School during WWII, and over the years has served as a wedding chapel for people of diverse faiths. One Palm Sunday, 1955, it was dedicated as the Wilson Chapel Methodist church. The original hand-hewn oak pews, with a Maltese Cross carved at the ends, are still used today.
Gabrella Manor (1938)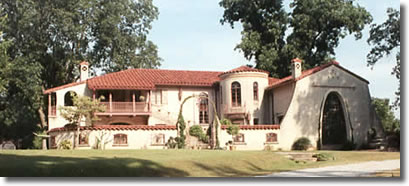 This Spanish Colonial Revival home was originally designed and decorated by a Dallas architect and an artist commissioned by the first owner, Robert C. Bundy.  The estate is approximately five acres, with the two-story brick house sporting a terra cotta tile roof. The entryway is turreted, and there are multiple patios and terraces surrounding the house. Interior feature include: large rooms designed for entertaining; multiple murals and original stained glass windows reflecting a Spanish theme; textured walls; a grand staircase; a bedroom balcony overlooking the living room; many arches and columns; tile flooring and original tile scenes accenting the fireplaces. Today, the house remains a restored Birmingham landmark. Current resident and owner Brenda Jones has renamed the estate Gabrella Manor in honor of her grandmother.  The house sits at the outer edge of the Roebuck Springs Historic District and is used as a meeting place for events such as weddings, receptions and anniversaries.
Mewborne – Sutherland House (1929)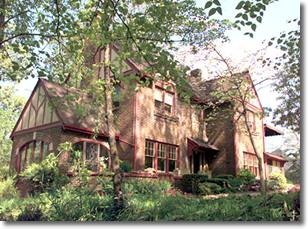 This two-story brick, stucco and half timber Tudor Revival home was built by William P. Merborne, a machinist-pattern maker turned builder-contractor. Mewborne built this home as his own residence.
A fieldstone wall defines the property line at the road and is expertly graded to the multi-acre site. Square pillars mark the auto entry to the tear-shaped driveway, and there are fieldstone terraced walkways and garden plots as well as a fieldstone barbecue pit on the grounds. Of special interest is the sunken garden with two goldfish ponds.
Interior features include a large formal living room, sun porch, double staircase to the second floor, and a private open porch off a bedroom on the second floor. Original windows, doors, trim, light fixtures and heavily detailed plaster walls are found throughout this elegant home.
Ryan House (1929)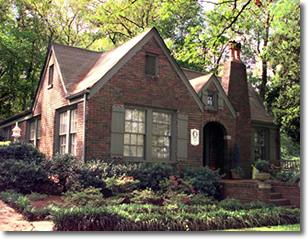 This one-story brick Tudor Revival bungalow was one of the last homes built in Roebuck Springs before the Depression brought development to a halt. Rudd Wylie Ryan, the first owner, was a foreman and template maker for the Virginia Bridge and Iron Company who had "moved up" from Wahouma.
The house appears much larger than it is, thanks to its perch on a hill across from Wilson Chapel. The side terrace and dining nook overlook Wilson Springs, affectionately know in years past as "Dr. Wood's swimming pool", the source of the area's water supply until 1923 when city water arrived.
The home contains many original features, including picturesque terra cotta chimney pots, oak floors, rough plaster walls, archways, cedar-lined closets, and a hand-hewn stone fire-place mantel. The current owner has added period light fixtures, and some wonderful craftsman details can be found in a recent kitchen renovation.
Ratchford-Truss House (1925)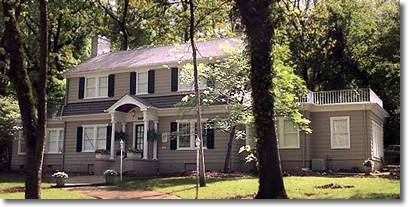 This two-story clapboard, Dutch Colonial Revival has symmetrical wings and a column-supported, pedimented entryway. The house is situated on a little under three acres with extensive fieldstone retaining walls, flagstone walkways, terraces, a flagstone barbecue pit and the remains of foundations of previous buildings. There is a detached garage, and two small pedestrian bridges that cross a wet weather creek.
The interior is open and designed for entertaining. Features include arched doorways, high ceilings, white oak hardwood floors, original light fixtures & door hardware, a stone fireplace in the living room, and the original ice chute door in the kitchen. The traditional furnishing include family antiques and heirlooms.
In the past, the home was the 'Trusswood" piano studio, where Mr. Ida Truss groomed hundreds of young pianists. Mrs. Truss reportedly had a piano in every room. Many people have hared memories of their childhood piano lessons at Trusswood. One person even remembers getting his first kiss (by several girls) in this home.
Many of the music instructors hired by Mrs. Truss were boarded in the Carson house across the street.
LaRoche-Gottlieb-Carson House (1915)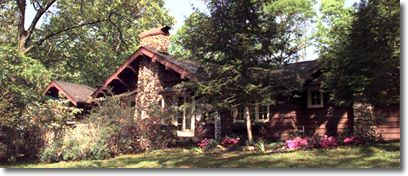 Edwin B. LaRoche, a 30-year old Cornell-educated architect, designed and built this, his home, in 1915. LaRoche, his wife Julia and their son moved from a southside address to distant Roebuck Springs, some eight miles from LaRoche's downtown office. The home, like many in the neighborhood, was constructed with materials available locally such as fieldstone (used in the foundation, chimneys and porches), hardwoods and heart pine. However, with design elements of American Craftsman, mountain chalet, and Wright's emerging philosophy of incorporation with the land, the home is distinctive from the English-styled historical homes that predominate here.
The original home included the present kitchen, dining room, living with with hallway to the rear, two bedrooms, a small nursery (Julia was pregnant at the time), inside bath, a rear porch (now enclosed as the mudroom), and a single driveway at the corner of Valley and Horner, marked by the fieldstone gate. The outbuildings, including a garage and servant's quarters may not have been original but were in place by 1930. The two-acre estate has exposed limestone boulders and a great diversity of flora.
The spirit of the home was aptly personified by the Gottlieb family, residents for over 35 years. "Gotti", a book merchant who immigrated to the U.S. as a child, and "Mitzi", a nurse from a large family in Washington, D.C. raised their son Paul here, hosted neighborhood teas during war rationing, filled the house with music and live performance, filled the yard with a sea of daffodils (now mostly covered by the second driveway) and fed, housed, and entertained countless friends and strangers.
Prosch-Bagby House (1928)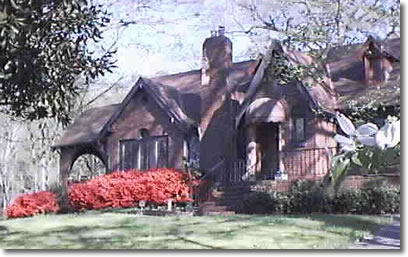 This Tudor Revival home is red brick with stone accents, has a porte-cochere and side porch, along with many English Arts and Crafts features. It is the third house on the site after fire destroyed the first two. Accentuated stone retaining walls, original steps and entrance pillars were built by John Miles, a servant of the James Kirtley family who lived on the property from 1913 until 1923. The grounds are home to an impressive oak tree that is over 100 years old.
The Kirtley-Bagby School House sits at the rear of the property and is thought to pre-date the current structure (it did not burn). It was once a private neighborhood school, and has also been used as a nursery and garage apartment. It currently serves as a guest house and contains the owner's collection of 1940's and 1950's memorabilia. The adjacent rose garden was redesigned in its original location.
Morton-Hearn House (1927)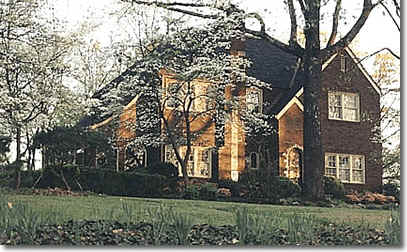 This two-story Tudor Revival brick house with stone inlay was built by James A. Thomas. After the original owners, the Mortons, lost the house in the Depression, it was owned by the Harry Austin family. Austin was a retired executive of General Motors in Detroit. His wife was responsible for much of the landscaping that remains today. Later, the house was the long-time residence of local historian Mildred Hearn. The interior features a sunroom with arched windows overlooking the formal English garden.
The two-acre lot is landscaped in the English country style, and features fieldstone retaining walls at Ridge Road, stone walkways and steps, a dry stone grape arbor, and a formal garden with limestone walks and a stone bench. There are vegetable, rose, perennial, herb and shade gardens, as well as thousands or daffodils.